I love hearing from so many others about what they are thankful for this time of year, or how their perspective is different this year than last!
This morning I am incredibly thankful for the wonderful women and men who have stepped forward to guest blog on here for my wonderful readers! They have so much to share, and it is a blessing to hear from them. As I can not type well, it is a blessing to me to be able to open my house to some lovely people and share them with you.
Please give a warm welcome to Rena, of An Ordinary Housewife Blog, who is graciously going to share with us today.
Blessings,
Being Thankful for What We Have
As we approach the Thanksgiving holidays, I find myself reflecting on all the things I have to be thankful for. It is so easy to fret and grumble about what we don't have rather than focus
on what we do have.
Honestly, I would probably be thinking about it even if Thanksgiving was not this week. I've been thinking about it because of some of the
stories I've heard from others.
For example, on one
message board about getting out of debt,
people share their stories and their budgets and I realize the
re
are those who are either in more debt than we are, or have a lower income than we do, or both!
So what if we need to eat out less so we can stay in a budget? Some people give up much more to feed their children. So what if we are living in a 2 bedroom apartment wit
h 2 kids
? At least we have somewhere to live that is decent and not in a dangerous area. So what if I buy baby things at yard-sales and off
C
raigslist? Some families can barely afford diapers or clothes for their children.
Sometimes I have to remind myself of these things.
We have a few acquaintances (all different families) with children around the same age as ours who've been diagnosed with serious health issues. We are blessed to have 2 healthy children.
The discomforts I have suffered so far are just those–discomforts and not true hardships.
T
he Thanksgiving season tends to cause pe
ople to reflect more on what they have to be thankful
. So I thought this would be a good opportunity to remind myself and everyone that we should be thankful for what we do have–not only on the one day a year "designated" for being thankful, but every day.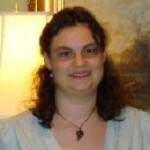 Rena, AKA
An Ordinary Housewife
, is a stay-at-home-mom to a 3 1/2 year old "princess" and 21 month old "monkey." She blogs about recipes, crafts and activities, ways to save money and her favorite products! If you enjoyed this post, be sure to check out
An Ordinary Housewife
for more great stuff!