Hi there, Welcoming House Readers!
And a great big hello to the readers from the Grain Mill Wagon as well!
I am excited to bring you my fourth recipe for the Grain Mill Wagon Challenge…….something that smells amazing when baking, makes your mouth water when you pull it out, and sends you running back to the plate for more when you have had one.
I was twenty years old before someone introduced me to a completely different version of gingerbread that was similar to a cake. Instead I had grown up with this lovely, molasses and ginger based bread that we would beg my mother for on Saturday mornings, slathered with butter and sprinkled with cinnamon sugar after being toasted.  I just wanted to say that up front, because this recipe is what my kids call a "two-fer"—where you can continue on from making the bread dough to make the gingerbread rolls, or you can just shape it into a loaf, let it rise, and bake it into a gingery concoction that smells amazing right down to the very last bite.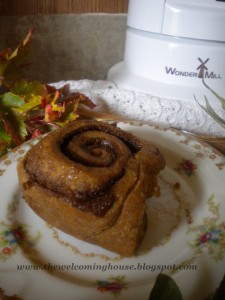 Like many of the very best recipes out there, this bread recipe just gets better with time. These rolls are amazing if you make the dough the night before and cover with plastic wrap, then let sit overnight to raise and bake in the morning.
Let's get started, shall we?
Gingerbread Sweet Rolls with Maple Icing
   In a regular mixing bowl, combine 2 cups of warm water, with 2 Tbs of dry yeast. Let sit for five minutes to proof, then add the following:
1/3 cup dry milk, 2 Tbs coconut oil (or shortening), 2 eggs at room temperature, and 1/2 cup of molasses.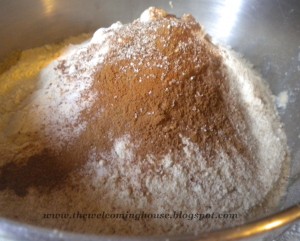 In a seperate mixing bowl, combine the following ingredients:
3 cups freshly ground Kamut flour,
3 cups freshly ground Hard White Spring Wheat flour
1 1/2 tsp sea salt, 2 tsp ginger, 1 tsp each of cinnamon, cloves and allspice, and finally, 1/4 cup of brown sugar.
   Once these are well mixed, and the yeast has proofed in the wet ingredients, add the dry mixture into the mixer bowl, and begin to blend together.
Once it is well blended, let sit for ten minutes for the flour to absorb all moisture.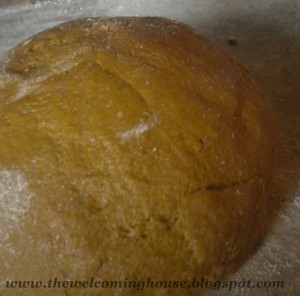 After kneading for about ten minutes, and adding extra flour as necessary to keep dough from being too sticky, turn dough out onto a floured surface and  knead by hand, adding in about 1/2 cup more flour, then letting rest again for 5 minutes. At this point in time, cut into two equal pieces, and you have enough dough for two pans of rolls, or one pan of rolls, and one bread loaf pan. (Gotta have that gingerbread toast, right?)
This is how I shape and mark my Gingerbread loaf bread.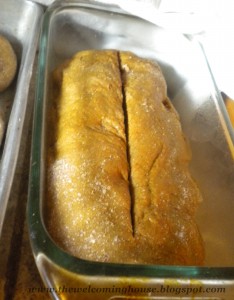 Meanwhile, roll one half of the dough out into a large rectangle on a floured surface. Due to the Kamut wheat, this is a soft and very workable dough, which makes for amazingly tender sweet rolls when they are finished!
   Once rolled out, combine the following in a bowl with a whisk:
   Take 1 cup butter, 1/2 cup coconut oil, 2 Tbs Golden molasses, 1/4 cup brown sugar, and 1 Tbs cinnamon, and mix until very well blended. This is the filling for the rolls.
   Spread on the rolls until completely covered, then, starting with the short end, roll the rectangle up into a long roll of dough with filling. Cut into 12 equal pieces, and place in a 9X13 pan to rise. This takes about 45 minutes until they are fully ready to go into the oven, which should be set at 350*.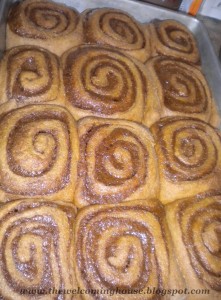 Once in the oven, these rolls bake for about 25 minutes, rising while they are baking. They need to cool completely before frosting (as you can see from the pictures, while we love the frosting, they are just beautiful without it!).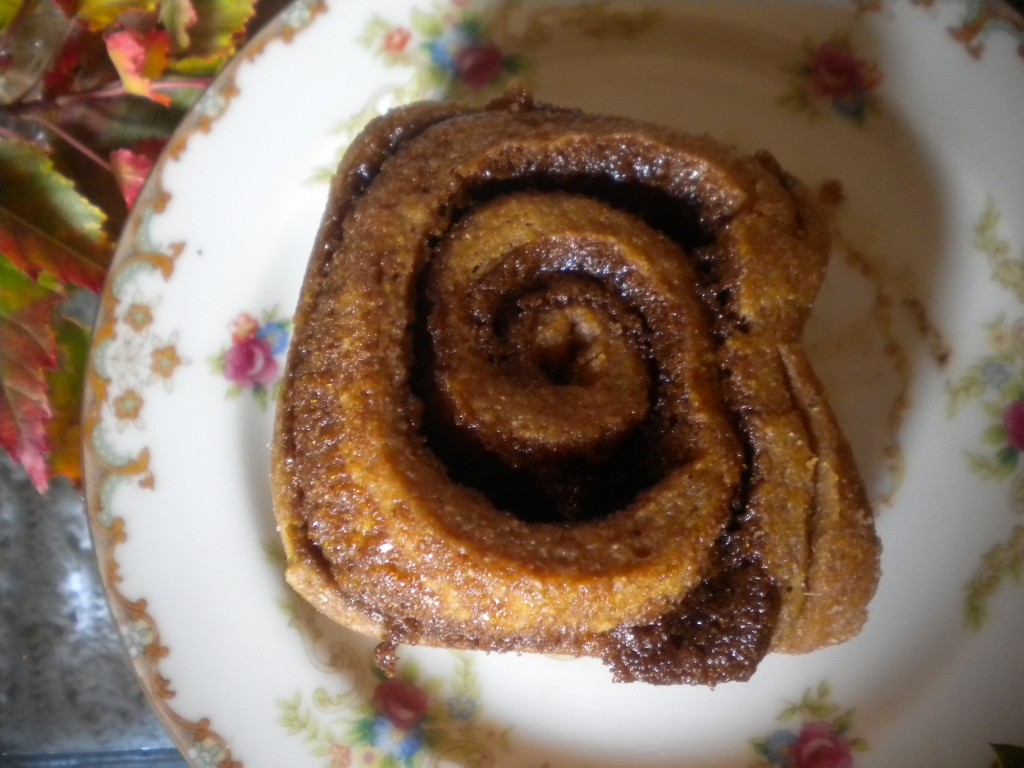 The frosting is simple, just 1 stick butter, 2 Tbs maple syrup (real or fake, your choice), and 1 cup powdered sugar. Blend, then add 1 Tbs of milk or water to make it smooth, whip until it begins to really grow in size with the addition of air. Smooth onto the rolls, and serve. Or smother them with the frosting while warm and let it dribble down the sides.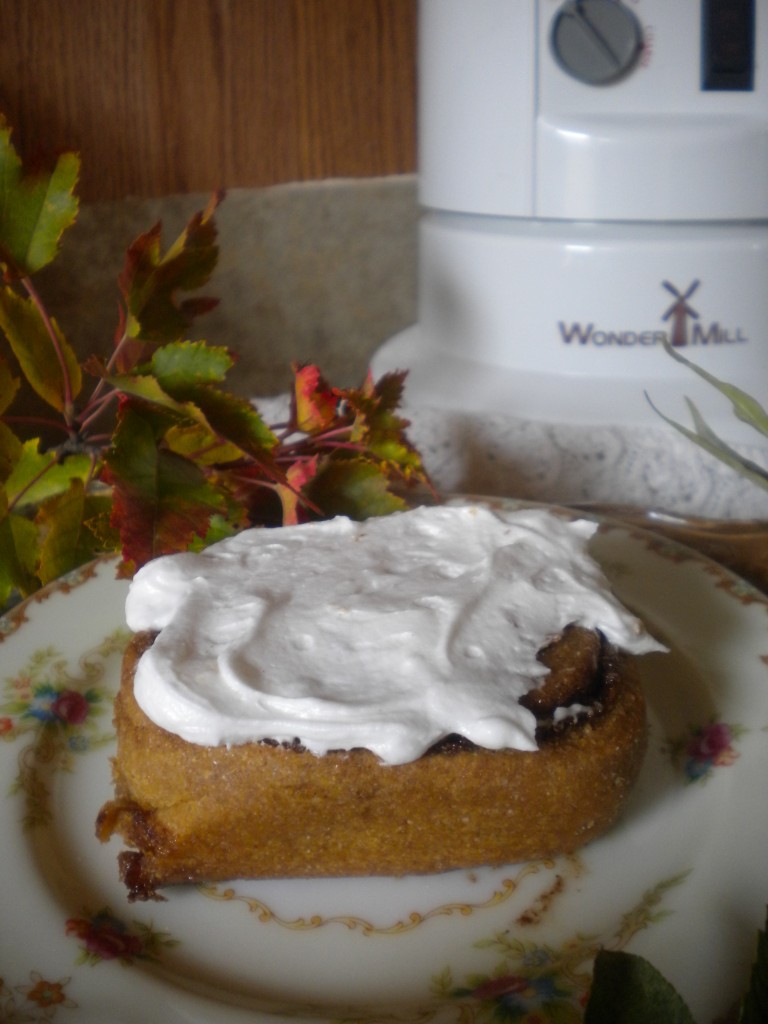 Finally, I cant let you stop reading without teaching you a lesson about baking.
   Ready?
   Dont ever wear black.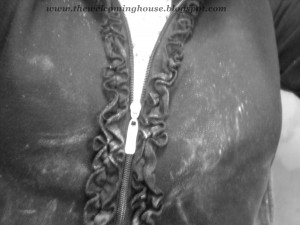 Many blessings to you and yours,
Heather